We produce our own range of infused liquors, bitters, liqueurs, syrups, and tinctures. These are all made from natural ingredients, in small batches at our space in Phnom Penh. We don't use any artificial colors, flavors or preservatives – only real fruits, spices, nuts and flowers.
Order via email at orders@tomokacocktails.com, and we will arrange a suitable time to deliver to you. Alternatively, contact us via phone, SMS, WhatsApp or Facebook message during our normal operating hours (Tuesday-Saturday, 5pm-midnight; Sunday 11am-8pm) and we will deliver as soon as possible. Delivery is free.
Click the photos below to learn more about our range of products, or click here to download our product list on one sheet.
Bitters, Liqueurs & Syrups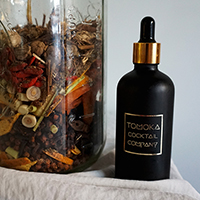 Essential cocktail ingredient inspired by Mekong flavors
$8.50 for 100ml
Infusions
Infused with bird-eye chilies
$12.50 (500ml)
Infused with Ecuadorian cocoa beans
$22 (500ml)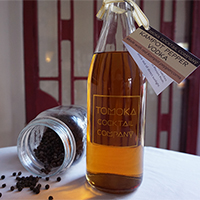 Infused with Cambodia's favorite spice
$13 (500ml)
Infused with coconuts, lavender, and orchids
$18 (500ml)
Infused with premium Persian Saffron
$17 (500ml)
Cold-washed with Italian white truffle oil
$25 (500ml)