The Keys is our Siem Reap outpost.
---
Stop by for a drink and a bite to eat at our outdoor bar and poolside garden; browse our liquor store; or even stay overnight in our villas.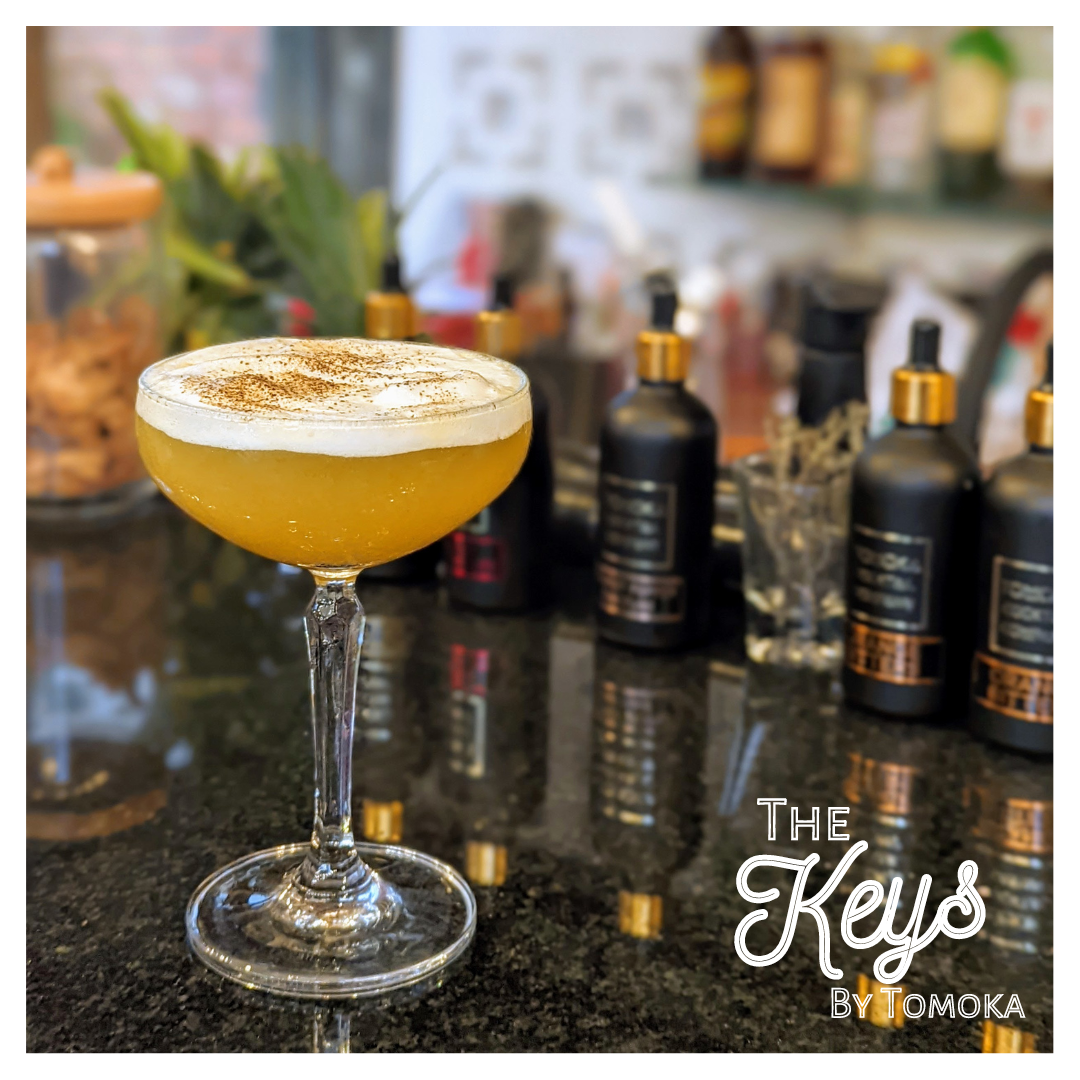 The Bar
The bar is open from 2pm to 10pm Tuesday-Sunday, and 10am-5pm on Sundays.
---
We have an extensive selection of cocktails including a set of frozen drinks perfect for hot days by the pool, plus selected wines and beer.
Our bar snacks are perfect for grazing, and substantial enough for a full meal. 
---
Drinks Menu
---
Food Menu
---
The Rooms
Our two villas have three bedrooms each, with a combination of double and twin rooms. The downstairs rooms have an attached living room and mini-kitchen, while the upstairs rooms have spacious terraces, overlooking the bar, garden, and pool.
---
These are available to rent by the room only, or your group can privatize one or both villas.
We offer packages including breakfast/brunch and a cocktail hour by the pool; an all-inclusive package encompassing brunch, snacks, and all of your drinks, and a room-only option.
---
Download packages | Inside the rooms
---
To hire one or both villas, please contact info@tomokacocktails.com or WhatsApp/Telegram +855 07 425 661 to discuss your requirements.
Brunch
Brunch is served every Sunday from 10am till 5pm!
---
Enjoy your Sunday with good food and good drinks, by the pool in our tropical garden. We have a menu of brunch classics available from 10am, as well as our usual bar snacks and sharing platters from 1pm. We have a special Sunday drinks menu, including a selection of specialty Bloody Marys, as well as brunch cocktails and tea cocktails.
---
Brunch plates start from $4, cocktails start from $4, and we offer three hours of free-flow drinks for $18.
---
---
Please contact +855 15 384 911 to make a reservation, or email info@tomokacocktails.com.
Events at The Keys
Our beautiful garden, terrace and pool area is perfect for birthday parties, baby showers, cocktail soirées and corporate events!
We can host up to 60 guests in the garden, bar and pool area, and, if desired up to 14 can stay overnight in the two villas.
All our packages are completely customizable according to your tastes, preferences, theme and budget - from the cocktails to the food, decor, ambience and music. You can check the sample packages for ideas, and get in touch to discuss your preferences directly.
---
Download sample packages
---
For more information, contact info@tomokacocktails.com or WhatsApp/Telegram +855 10 255 634 to discuss your requirements.