Cinco de Mayo: All the tequila and mezcal
Cinco de Mayo is a great excuse for this set of our favorite tequila and mezcal cocktails: 30 strong drinks made with Lunazul 100% blue agave tequila, Alipus Mezcal, all garnishes, and 4kg ice.
$98 for the full set – available 30 April-12 May. Send us a Facebook message or call us on 98 813 018 to order!
Cocktail of the Month
Every month, we have a special cocktail that's not on our regular menu. Sometimes they use seasonal ingredients, or something special that requires us to do some extra preparation. They're normally either one of our own recipes, or a lesser-known classic that's not on many menus around town.
In April, it's a Truffle & Olive Martini – find out more here.
Wallet-Friendly Cocktails
All the cocktails below are $16 or under per bottle. Each bottle contains 3-6 drinks, and price per drink starts from $2.50. As ever, we use only quality liquors, freshly-squeezed juices, and our own small-batch, fully natural house products.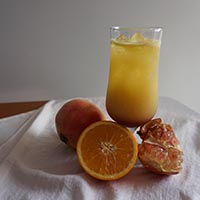 Lunazul Tequila, Orange, Tomoka Grenadine
$13 for 4 drinks
$3.25 per drink