Cocktail deliveries
All the drinks on this menu are available for delivery or for takeout. We mix fresh to order, bottle, and send to you along with garnishes and instructions.
For takeout, send us a message on Facebook or give us a call on 098 813 018 – you can pay in cash or by ABA transfer.
For delivery, please order via NHAM24 or Muuve.
You can also order our products – including infused vodkas and tequilas, bloody mary mix, syrups and bitters for delivery via Grocerdel.
Margaritas
All made with 100% blue agave tequila and freshly-squeezed lime. Who doesn't love a good margarita?
All things gin
From the strong and slow-sipping to the boozy and tropical.
Bombay Sapphire Gin, Campari, Tomoka Hibiscus Shrub
$22 for 6 drinks
$3.67 per drink
Tropical Treats
Refreshing cocktails for sunny afternoons and warm evenings.
Tomoka White Truffle Tequila, Tomoka Falernum, Plantation Overproof Rum, Tomoka Passionfruit Syrup, Tomoka Aromatic Bitters, Nixie Absinthe, Lime
$35 for 5 drinks
$7 per drink
Chivas 12YO Scotch, Pineapple, Tomoka Hibiscus Shrub, Tomoka Falernum, Tomoka Smoked Chili Tincture
$26 for 6 drinks
$4.33 per drink
Tomoka Pinepple & Coconut Rum, Lime, Tomoka Ginger & Lemongrass Syrup
$22 for 6 drinks
$3.67 per drink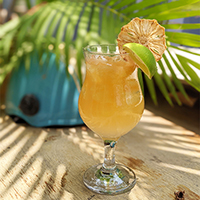 Diplomatico Planas Rum, Grand Marnier, Lime, Tomoka Orgeat, Myers Dark Rum
$29 for 6 drinks
$4.83 per drink
Whisky Favourites
Concoctions featuring Scotch, bourbon and rye.
Rittenhouse Rye Whiskey, Tomoka Golden Falernum, Lime, Muddled Raspberries
$42 for 6 drinks
$7 per drink
Tomoka Cocoa Tequila, Jim Beam Bourbon, Tomoka Cinnamon Tincture, Vanilla Syrup
$26 for 6 drinks
$4.33 per drink
Maker's Mark Bourbon, Campari, Aperol, Tomoka Saffron & Pomelo Shrub, Tomoka Orange Bitters
$22 for 6 drinks
$3.67 per drink
Vodka Cocktails
There's always room for a martini and a bloody mary in life.
Absolut Vodka, Tomoka Bloody Mary Mix
$12 for 4 drinks
$3 per drink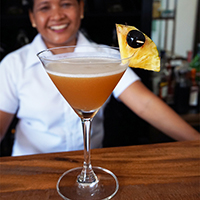 Absolut Vodka, Fresh Pineapple, Chambord, Tomoka Kampot Pepper Tincture
$26 for 6 drinks
$4.33 per drink